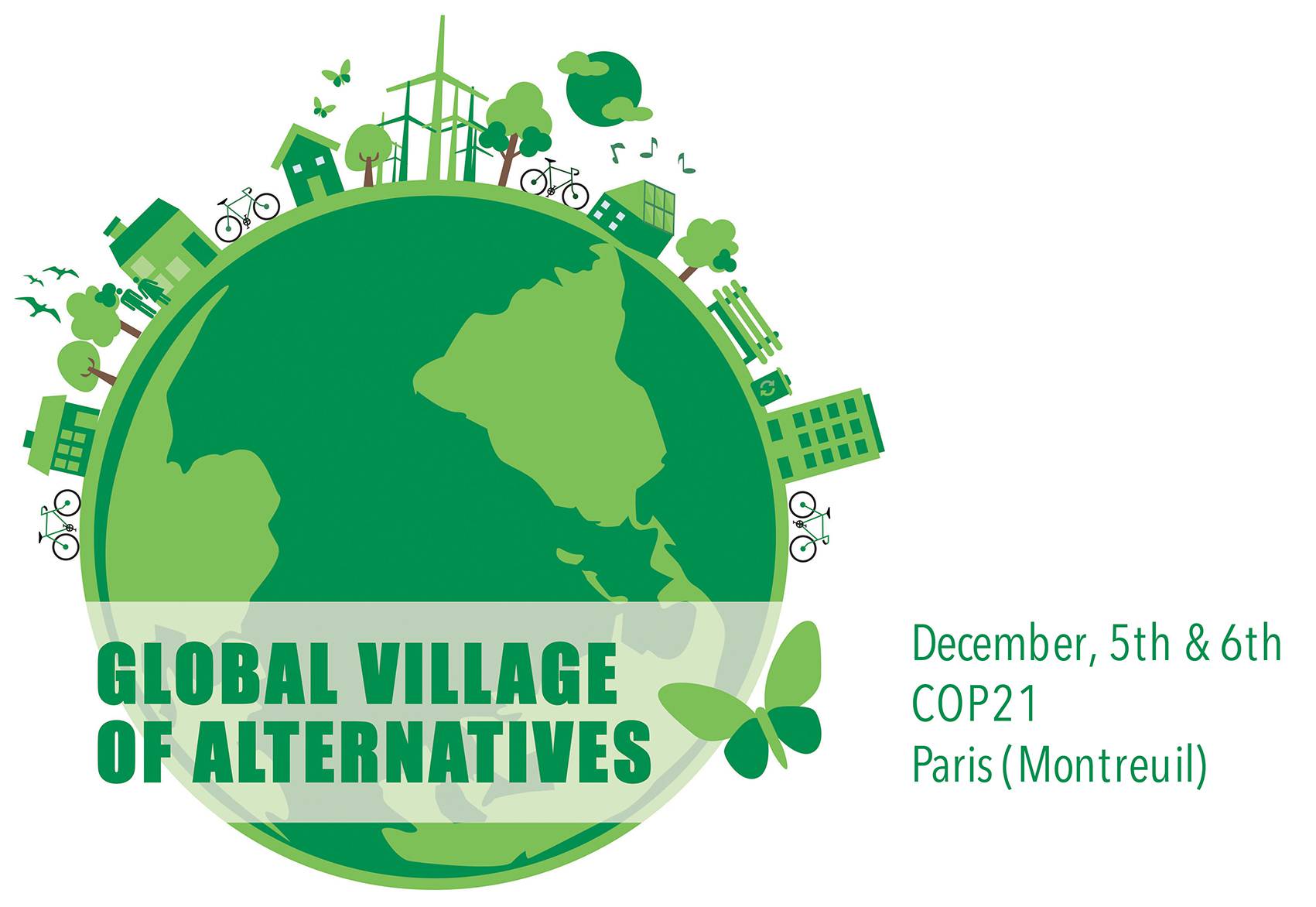 The Global Village of Alternatives will take place this 5th and 6th December, 2015 in Montreuil, France. It will be a huge folk festival, as well as a « village of alternatives », showcasing alternative lifestyles contributing to solve the climate, energy and ecological crisis. The village will host alternatives promoted by both individuals, communities and local policy maker.
Powered by more than 500 volunteers and alternative enthusiasts from around the world, the temporary village of alternatives will gather tens of thousands of people in the centre of Montreuil in Paris, liberated from cars on for the occasion (traffic will be banned from several streets and places from the Jaurès Square in front of the city hall, to the Croix de Chavaux crossroad).
Each street or place will be devoted to an alternative lifestyle. Visitors will for instance discover the re-localisation street, the place of sustainable and small scale agriculture, the low-carbon transportation avenue, or the recycling and repair square. From street to street, visitors will discover alternative lifestyles and actions from all over the world that are now contributing to a significant decrease of global greenhouse gas emissions: small-scale, local and sustainable farming, short supply chains, shared gardens, eco and shared housing, relocation of economic activities, fair trade, environmental awareness actions, energy savings, renewable energy, alternative urban planning, energy transition policies, sustainable transportation, car sharing, ethical finance, local currencies, responsible consumption, repairing and recycling, waste reduction, zero waste plans, grassroots energy and climate scenarios, work and wealth distribution,  conversion to social and ecological production initiatives, transition towns…
Living right
Innovative local to global alternatives will be presented in the streets all day, through practical workshops, educational games and exhibitions under covered stalls or big tops. The urban space – free of cars will be occupied by games for children, concerts, street theatre, poetry, public debates…
Each of us will be invited to explore car-free urban spaces devoted to creative alternative lifestyles and actions that contribute to the restoration of our environment and social networks. The village of alternatives will also demonstrate that the post carbon societies we are building now are essentially friendly, fun, and based on solidarity.
The Global Village of Alternatives will actually look like both a folk festival and a rally, an alternative lifestyle exhibition and a friendly post carbon village. In any case, it will be free and worth visiting with families and friends, to discover, learn, meet, greet or simply have fun.
The Citizen Summit for Climate
The Global Village of Alternatives is an official event of the "Citizen Summit for Climate" that will be held in Montreuil on December, 5-6. Within walking distance of the Global Village of Alternatives, the Citizen Summit for Climate will feature:
– The Coalition Climat 21's "Climat Forum", hat will host hundreds of debates, workshops and conferences to present, analyse and discuss the initiatives, solutions and struggles of climate activists worldwide. The Climate Forum will also provide facilities for organising actions to be conducted during the second COP21 week, and particularly on December 12th;
– The Confédération paysanne's small scale farmers market, co-organised by the Confédération paysanne and the Amis de la Conf aims at raising customer awareness of sustainable and fair food production challenges, through practical consumption. While walking the alleys and tasting food from twenty regions of the world, the visitors should thus be inclined to change their food consumption habits toward more local, fair, and sustainable products.