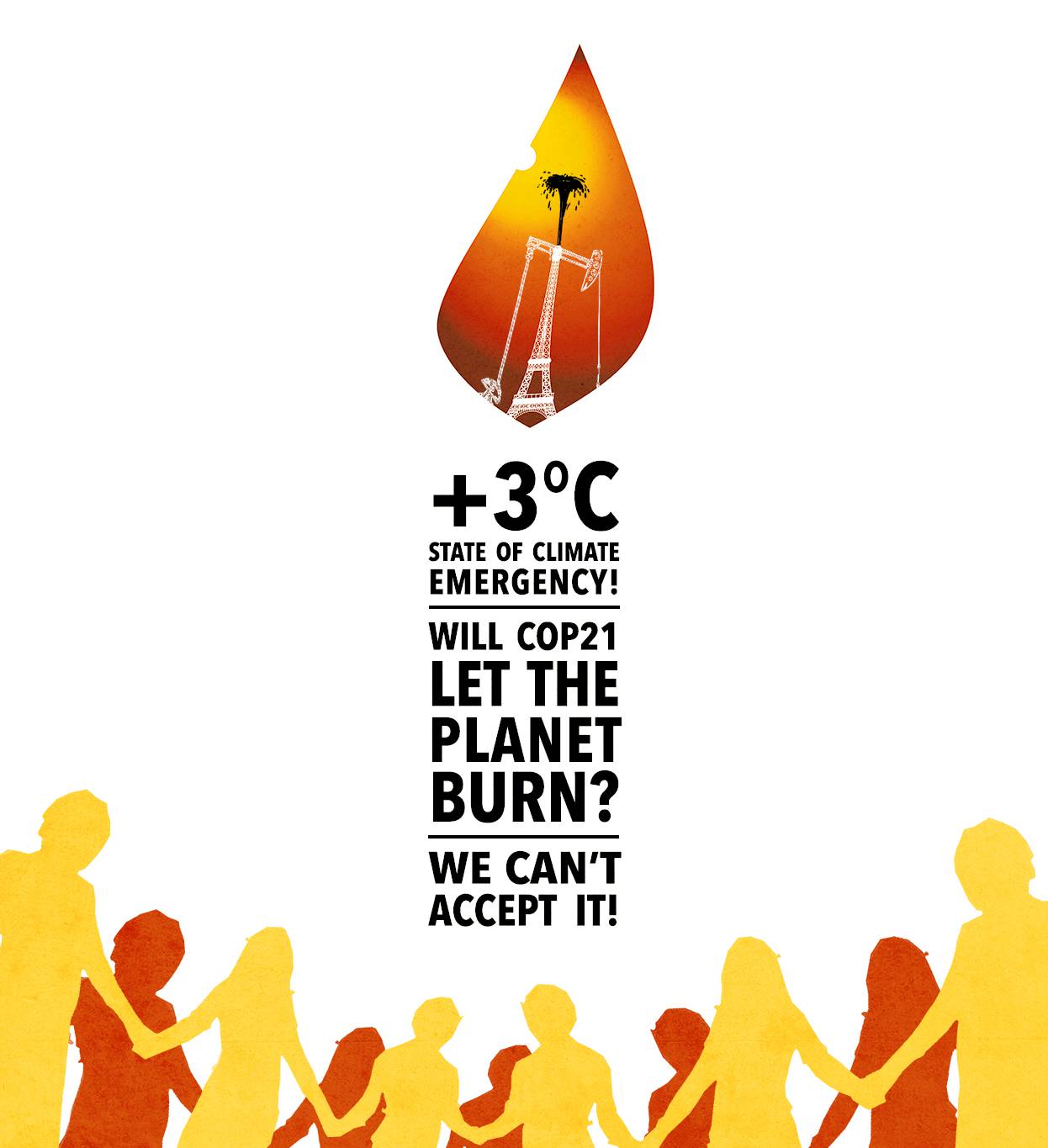 COP21 negotiators are failing to answer this essential term of reference. Conversely, the country greenhouse gas emissions reduction pledges would induce an average global temperature increase of 3ºC, which would irreversibly drive us into climate chaos. The lack of legally binding commitments on global greenhouse gas emission reduction pledges between 2015 and 2020 in the draft agreement confirms that COP21 will lead to a global temperature increase higher than 2°C. Without radical changes, the COP21 agreement will implicitly allow a global crime against humanity.
We cannot accept the unacceptable! We have to sound the alarm to inform the people of the world on the state and possible outcomes of the climate negotiations. That is why we declare the state of climate emergency and call for a mass citizen gathering on Saturday, December 12 at 14:00, in the Champ de Mars, under the Eiffel Tower. We are going to form large human chains and carry climate emergency and call to action messages to the people of the world. We will demonstrate with discovered faces, to stress the strictly non violent nature of our action.
10.000 signatories within 48 hours, 100 public figures, 15 organizations* calling this gathering, and a strong will not to accept the results of this COP21, leading towards a warming of +3°C! All this elements indicate that this gathering will most certainly be the greatest citizen mobilization of this COP21.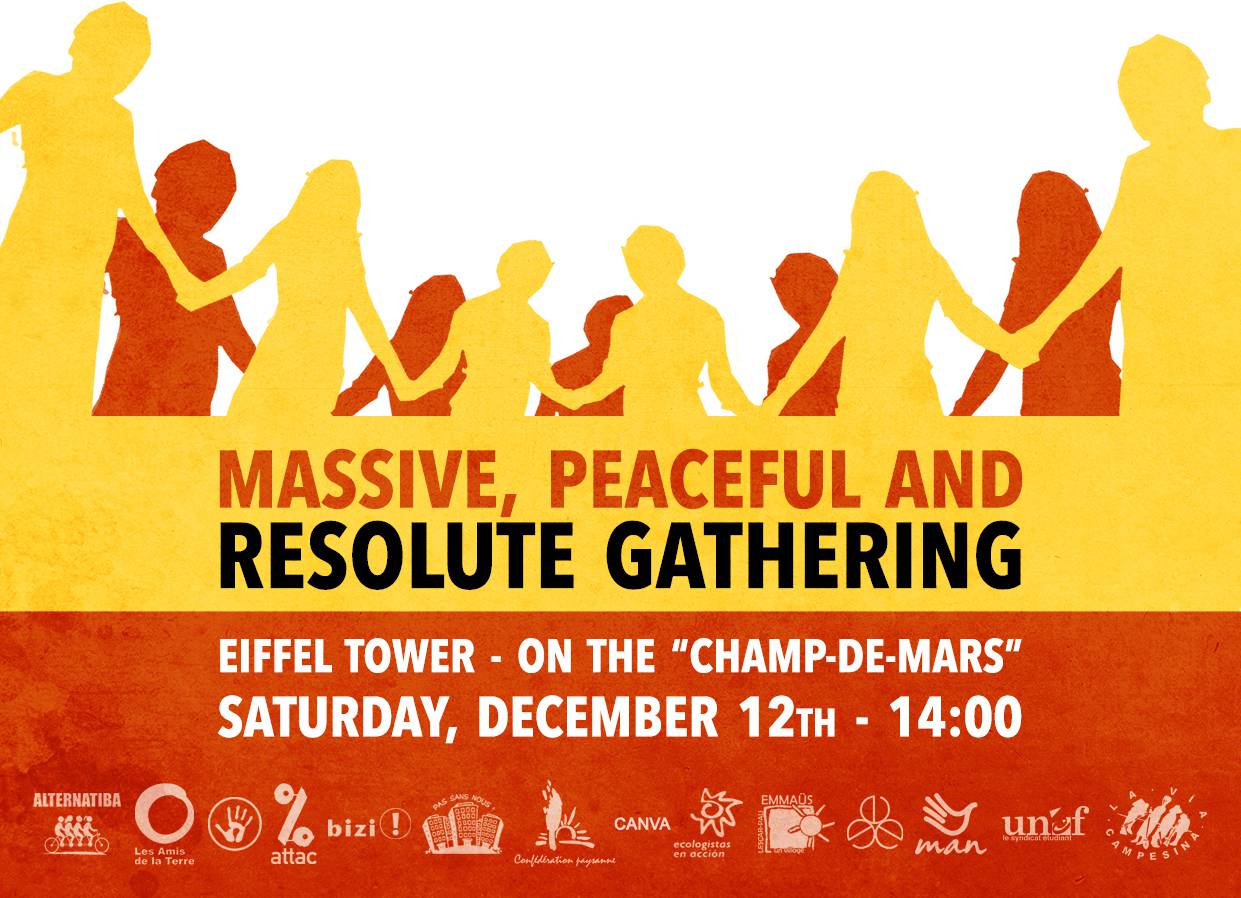 We will form massive, peaceful and determined human chains during the Tour Eiffel gathering, with discovered faces, to stress the strictly non violent nature of our action. The human chains will start at the Eiffel Tower, symbol of the COP21 and of the industrial revolution and productivism that have caused the anthropic global warming.
The human chains will bring the climate justice for peace message throughout the Champ-de-Mars war monument, to converge at the Mur de la Paix ("Wall for Peace"), and will tell the world that only climate justice can bring global peace and sustainibility.
The Eiffel Tower gathering organisers and international public figures will call for the strengthening of citizen mobilisations and alternative and sustainable lifestyles development. The world public opinion will be asked to declare the state of climate emergency. Coalition Climat 21 representatives will speak at the end of the meeting.
COP21 = +3°C: let's declare the state of climate emergency !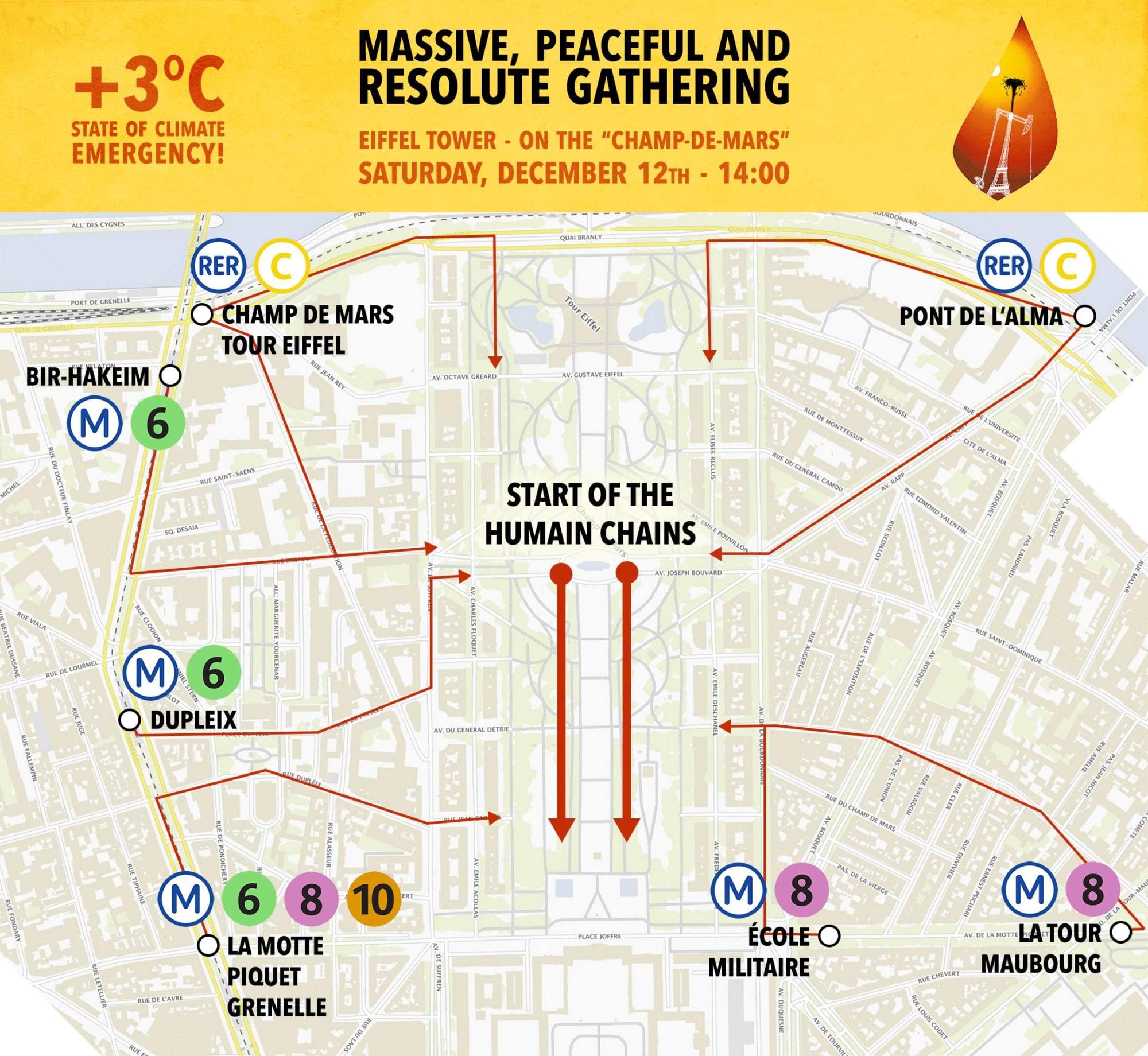 * Friends of the Earth France, Attac France, Alternatiba, Action Non-Violente COP21, Bizi, Confédération Paysanne, Coordination de l'Action Non-Violente de l'Arche, Ecologistas en Acción, Droits devant, End Ecocide, Emmaüs Lescar Pau, Mouvement pour une Alternative Non-Violente, Collectif National Pas Sans Nous, Unef, Via Campesina.