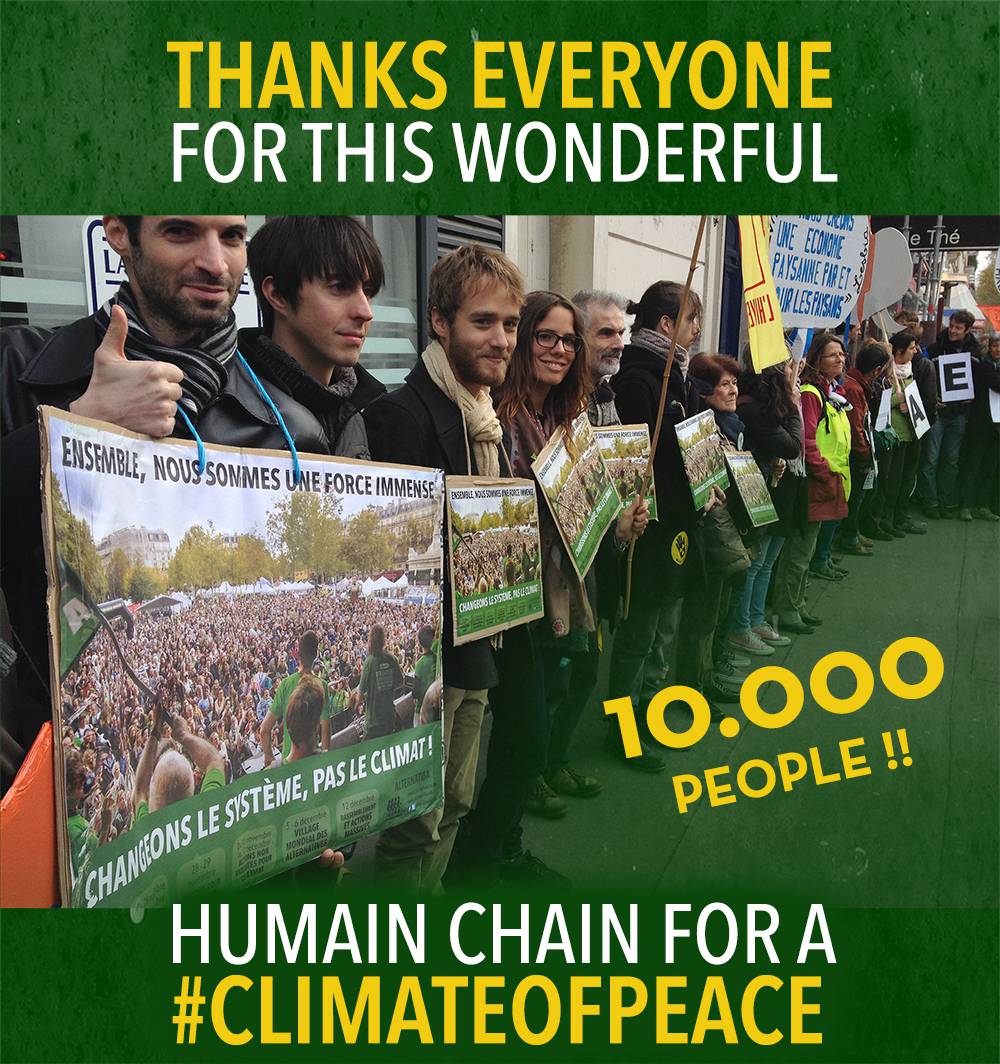 People lined the streets of Paris in their thousands on Sunday, forming a human chain from La République to Nation and calling for action on climate change. Organised by Alternatiba, Attac and other organisations in the climate justice movement, ten thousand people stood up to the French government's ban on protest following the recent terrorism in Paris – demanding a "climate of peace".
For the entire fortnight of the COP21 summit, Alternatiba has turned a gymnasium in Île-Saint-Denis (a melting pot with people of all nationalities in inner city Paris) into its Hood Quarters. With spaces for meetings, organisation, relaxation and training, sleeping 200 with composting toilets, a bicycle workshop, bikes to borrow and with a kitchen with wood fired stoves. Amongst other things, the space is being used to coordinate and organise the Global Village of Alternatives taking place this weekend.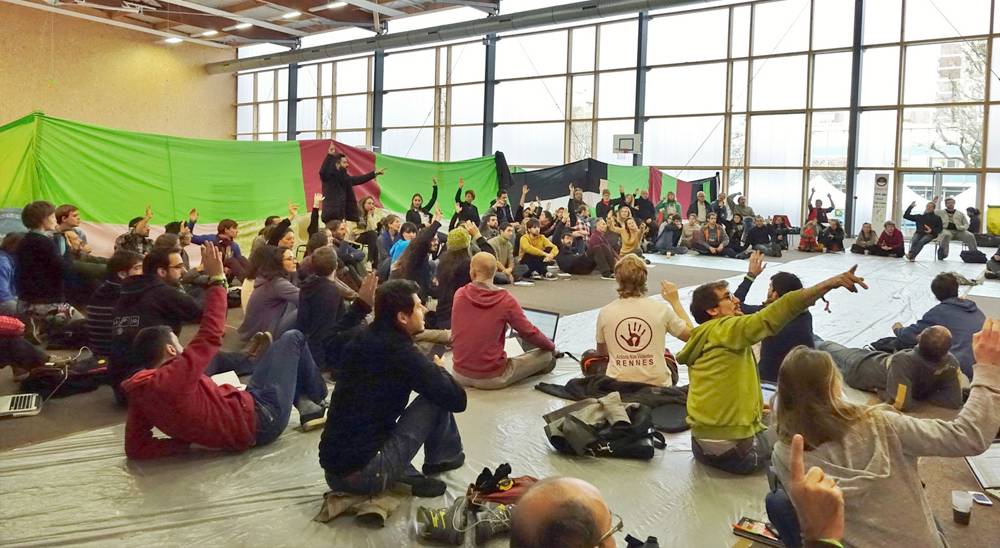 Although nearly 200 countries have proposed emissions limits, the UN climate summit, COP21, is on track to fail to keep us within 2°C and may not even contain a "ratchet" mechanism which would push countries to crank up (strengthen) their emissions limits regularly. We need citizen pressure and action to get a strong binding agreement now, more than ever.
We invite you to sign the Call to Maintain Citizen Demonstrations During COP21 which has already got 20 000 signatures. The text calls for people to stand up to both the individuals behind the terrorist acts and climate change by living and working together to build an enduring world of more justice and solidarity. Please sign it now.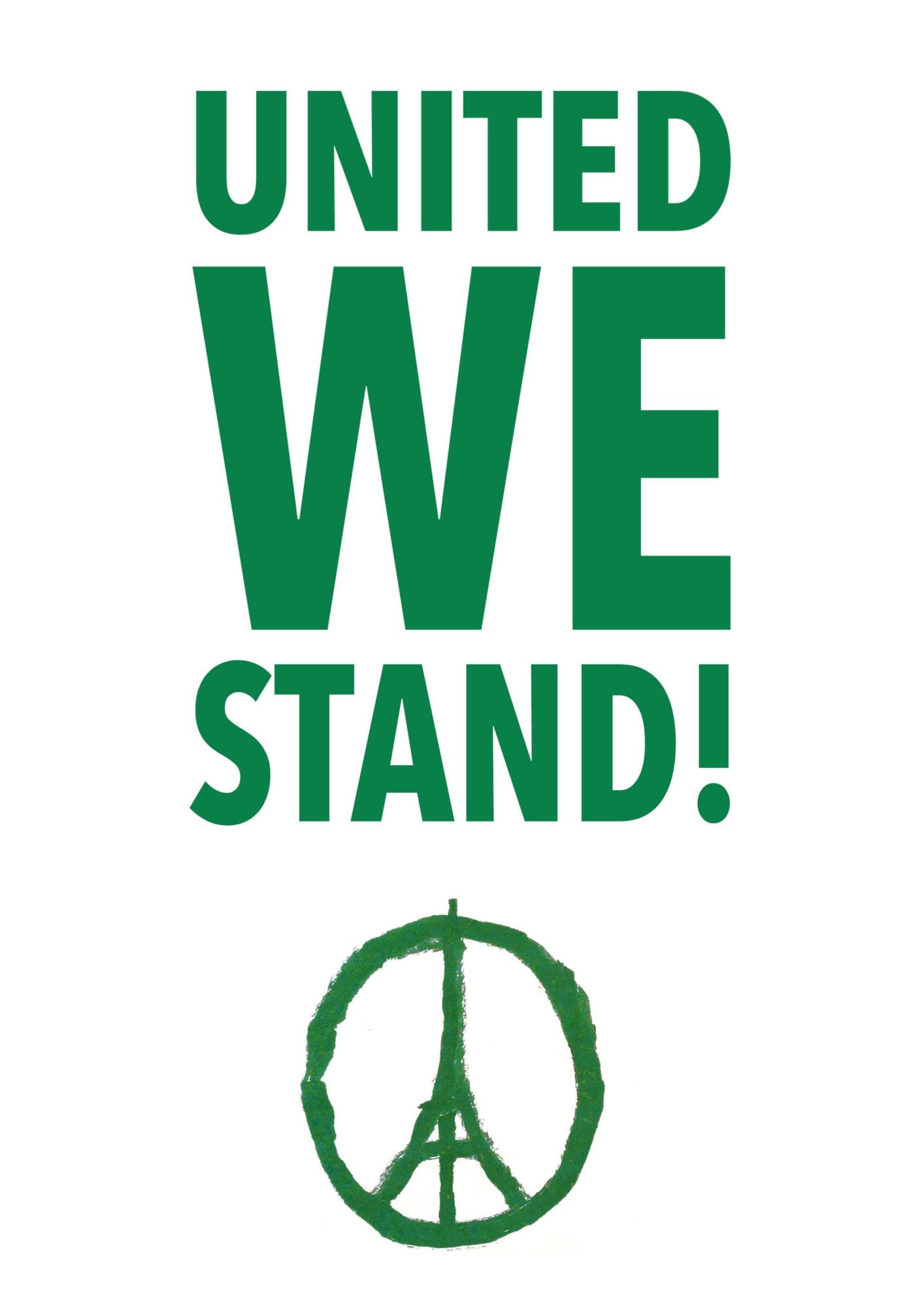 The Global Village of Alternatives is a huge festival of alternatives-for-the-people-to-take-on -climate-challenge in the streets and squares of Montreuil on Saturday 5th and Sunday 6th December. With conferences, talks, debates, workshops and stalls from 275 organisations committed to and offering alternatives to climate change. Organized into zones covering: agriculture; food; health; the commons; climate and energy; education; making-repairing: objective zero waste; habitation; transport; social economy of solidarity; responsible finance; and migration solidarity rights. Together with street theatre; mimicked conferences; a free-to-take space; street art; local food and drink; training in direct action for a huge action on 12th December; and live music concerts – this weekend let's crank it up for climate justice together!