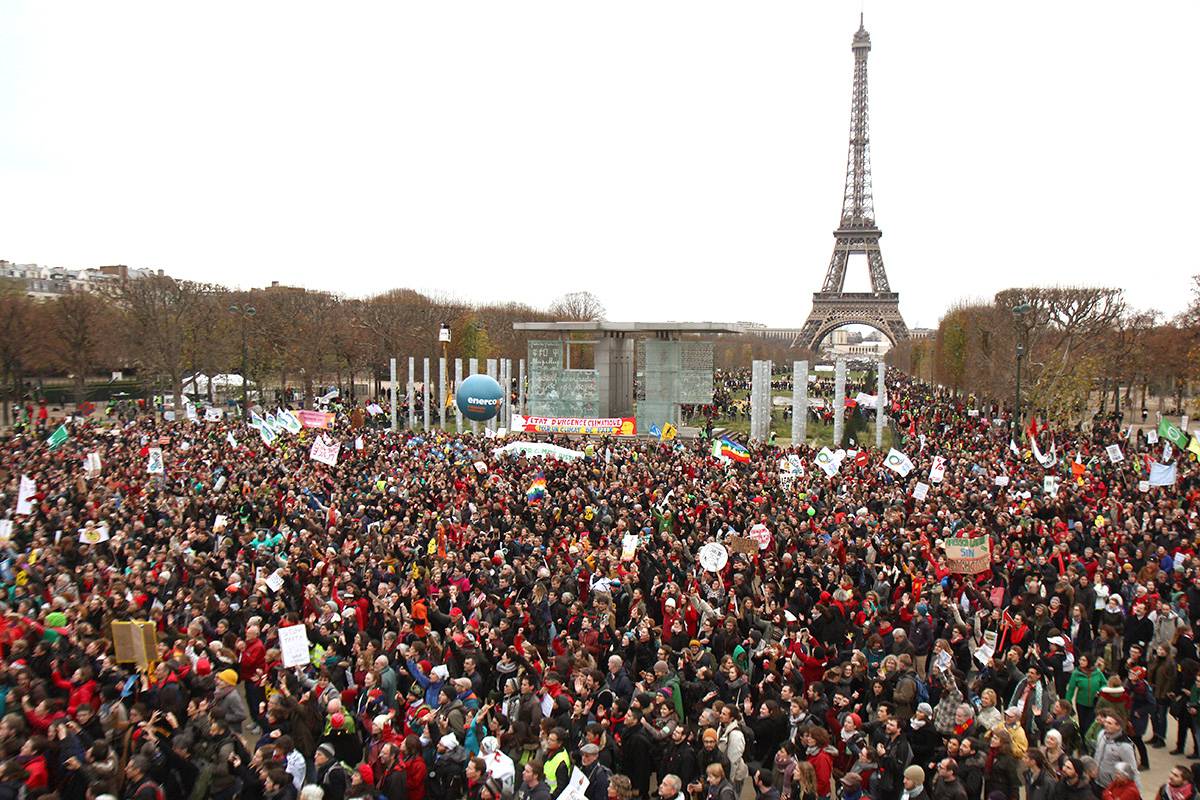 COP21: a month of intense mobilizations for Alternatiba's activists
Despite a very busy year – namely marked by the organization of about a hundred villages of climate-friendly alternatives, which gathered hundreds of thousands of citizens, and of an Alternatiba Tour that promoted alternatives in 187 territories within four months – Alternatiba activists rallied in Paris for over a month to prepare and act during COP21. COP21 took place in a climate of extreme tension, due to the bloody November 13 attacks and their consequences: state of emergency and bans on public demonstrations for climate. Alternatiba therefore chose as its motto the HK and the Saltimbanks main title: "On lâche rien!" ("we will never give up"), to signify its will to keep demonstrating for climate in the streets during COP21.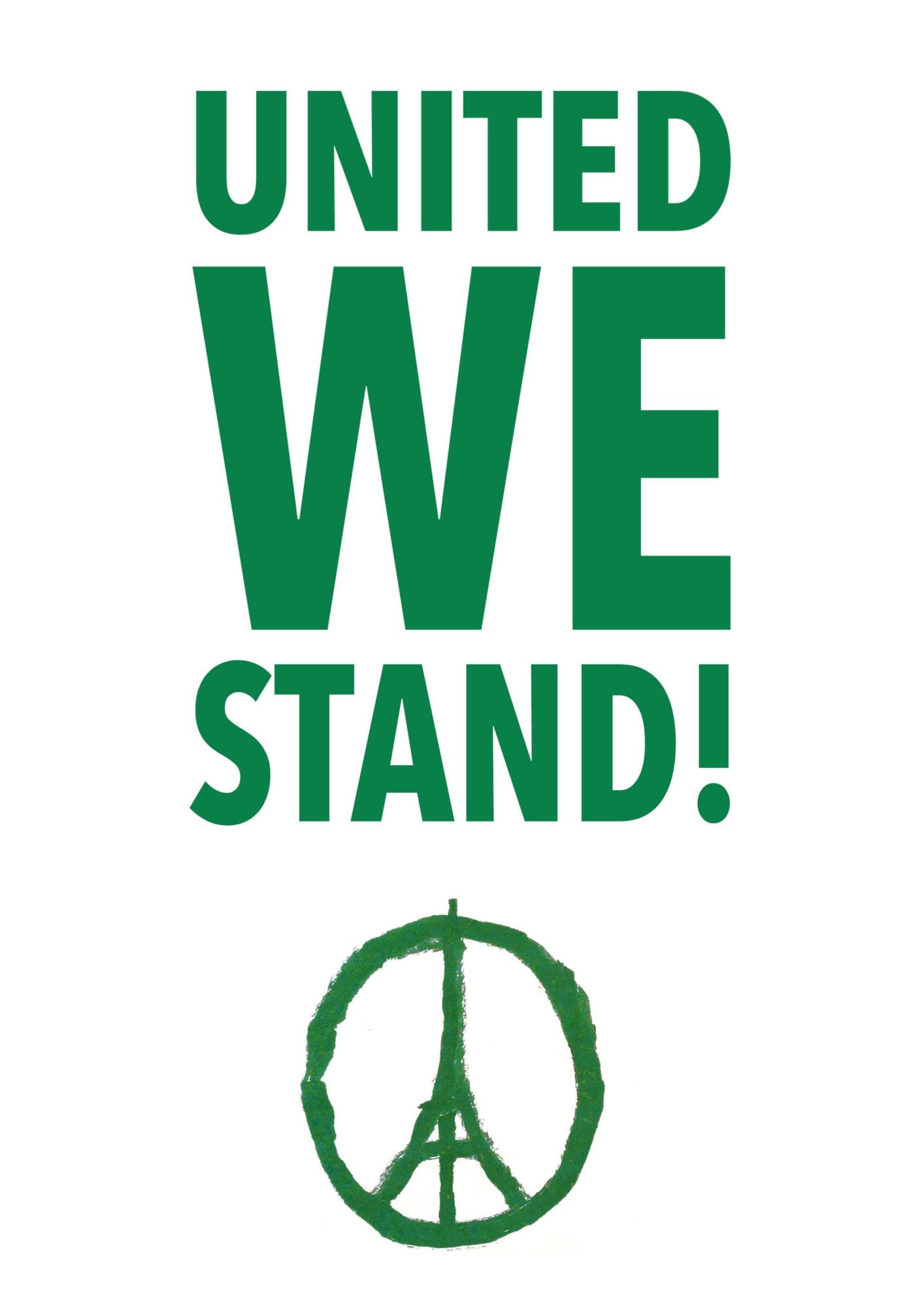 By organising human chains on Sunday, November 29, the Global Village of Alternatives on December 5-6, the gathering at Champ de Mars on Saturday, December 12, and several non-violent civil disobedience actions, the Alternatiba movement has demonstrated its powerful mobilisation force. Moreover, this climate movement, born two years ago at the occasion of the first village of alternative held in Bayonne, Basque Country, has stood up against the government will to ban all public demonstrations for climate during COP21. Whereas the French government wanted to forbid all public demonstrations criticising the COP21 Agreement on Saturday, December 12, Alternatiba namely won the right to organise the Champ de Mars gathering to massively criticise the COP21 Agreement.
COP21 was just a beginning: we will keep standing up for climate!
Alternatiba had installed its basecamp– the "Genial HeadQuarters (HQ)" – in l'Ile-Saint-Denis, a poor city Paris suburbs particularly engaged in an ambitious effort of social and ecological transition. This headquarters was inaugurated on Saturday, November 28 in the presence of Jean Jouzel, Christophe Aguiton, Pauline Boyer, Denis Cheyssoux, Cindy Wiesner (USA), Godwin Uyi Ojo (Nigeria) and the city mayor Michel Bourgain. About 200 activists have lived together in a gym hall, converted into an alternative living place during the two weeks of COP21, and used the HQ space to coordinate and prepare all their actions and mobilizations. Meet and greet session gatherings HQ activists and Ile-Saint-Denis inhabitants were also organised.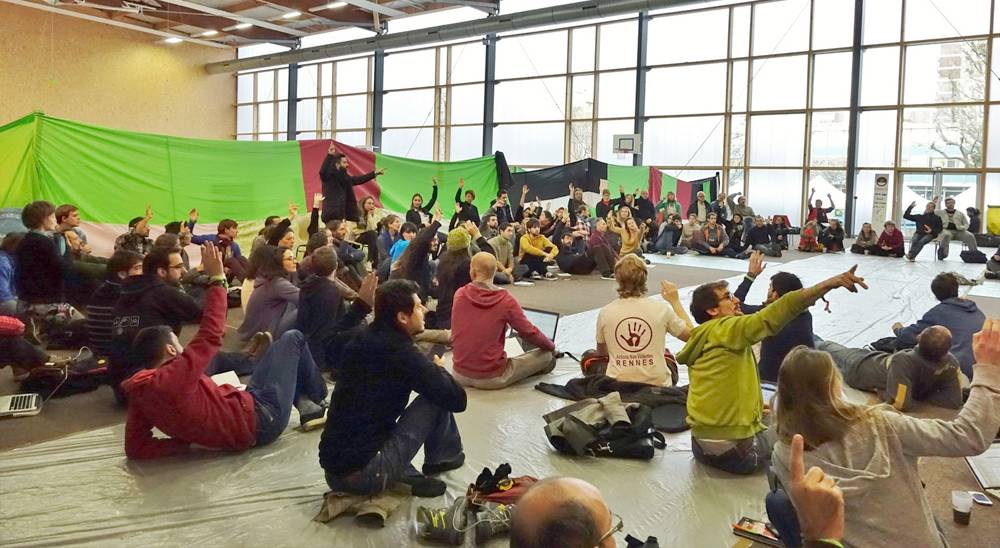 The day after the HQ grand opening, on Sunday, November 29, Alternatiba organised with ATTAC and several other networks a large human chain along the path of the prohibited climate march. The human chain theme was "State of climate emergency – For a climate of peace." The previous two weeks had been marked by the bloody November 13 attacks, which had led to the state of emergency declaration and the prohibition of all forms of public gathering. These events have plunged Alternatiba's activists gathered in Paris to prepare COP21 mobilizations in a constant state of tension and uncertainty. Despite its youth, the Alternatiba movement showed an unwavering determination and genuine organisation and mobilisation capacities which allowed to preserve its cohesion and efficiency during this troubled period.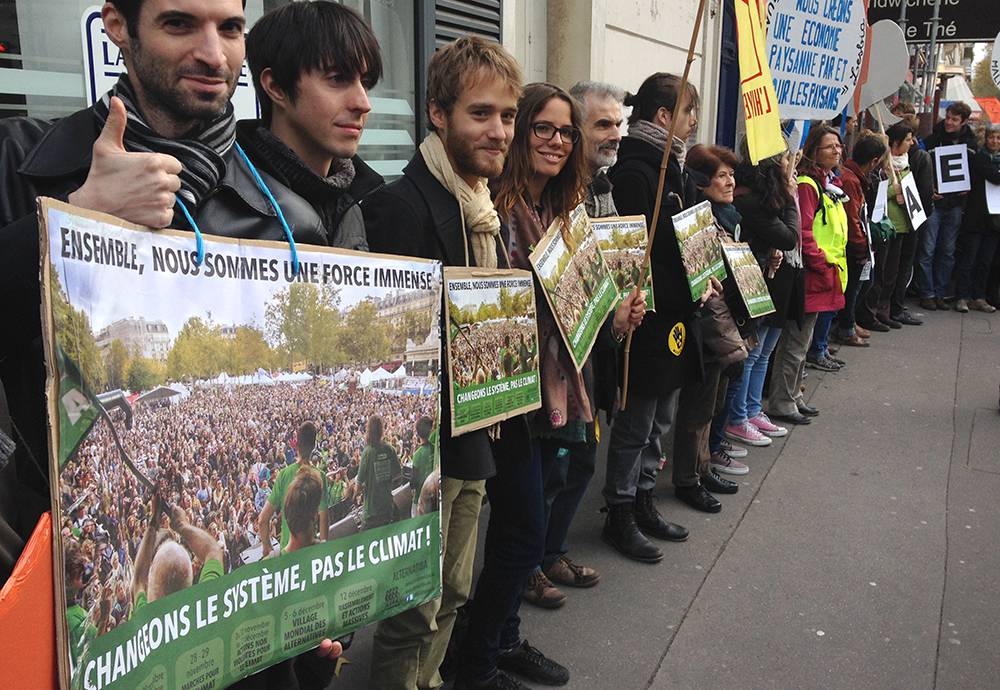 Meanwhile, Alternatiba activists had kept working hard to organise the Global Village of Alternatives, despite the almost certainty that the event would be banned. Luckily the Global Village of Alternatives was authorised and successfully took place during the Coalition Climat 21's Climate Forum on December, 5-6. The village presented 277 practical solutions to tackle the climate challenge from about 20 countries to a large crowd of 30 000 French and international visitors.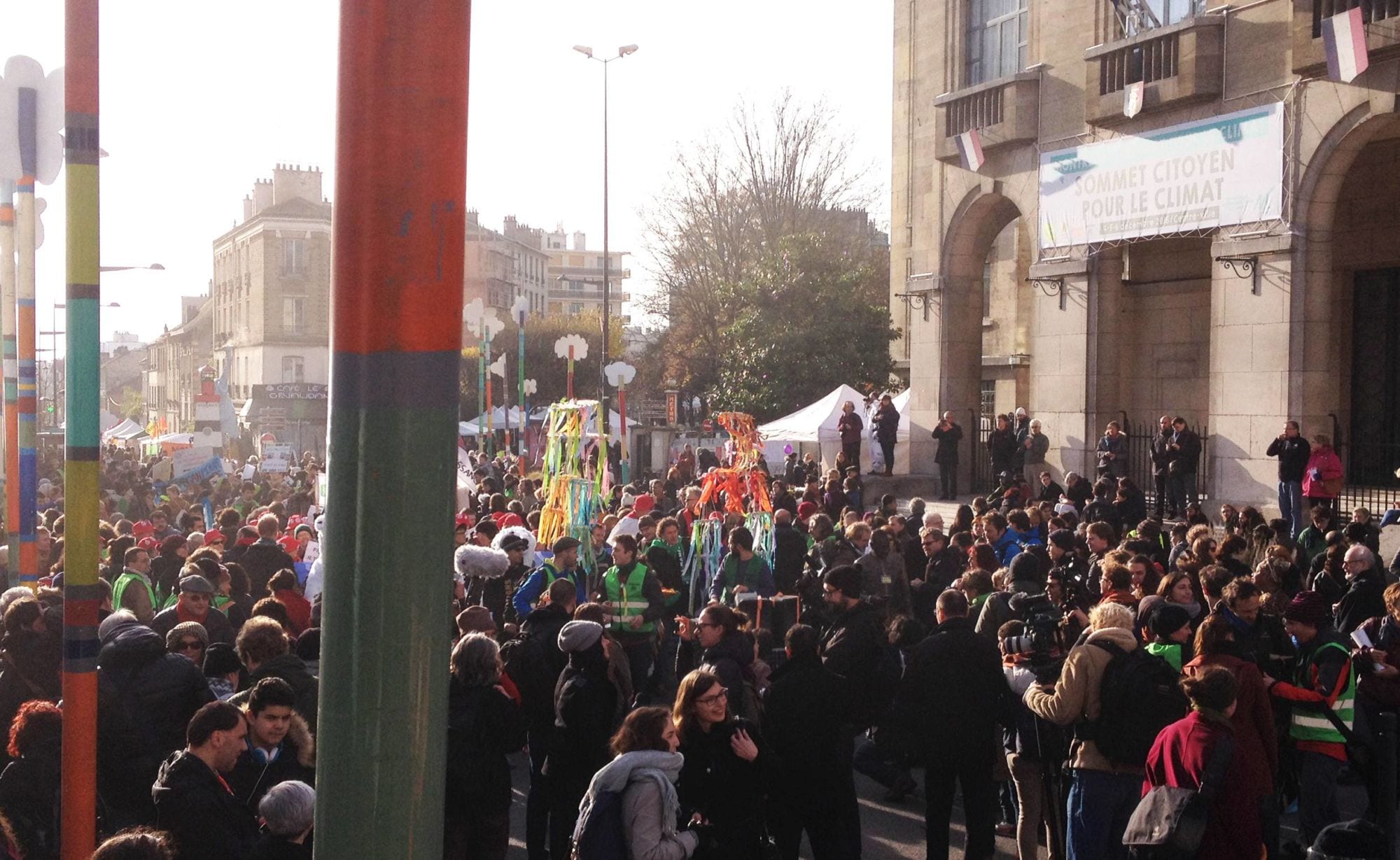 Alternatiba activists have furthermore actively participated for over a month to non-violent and determined civil disobedience actions for climate organized by the "Non-Violent Action COP21" group ("ANV COP21").
These actions, which drew massive public and media interest, consisted in: setting up a climate crime scene in front of the Total company headquarters, requisitioning chairs in banks facilitating tax evasion in response to the "Chair Reapers Call", denouncing public subsidies to fossil fuels by occupying the French Union of Petroleum Industries headquarters, organising a rally outside the French bank BNP headquarters, a HK and the Saltimbanks concert in a BNP office, and the 196 chairs summit to present proposals for funding of social and ecological transition.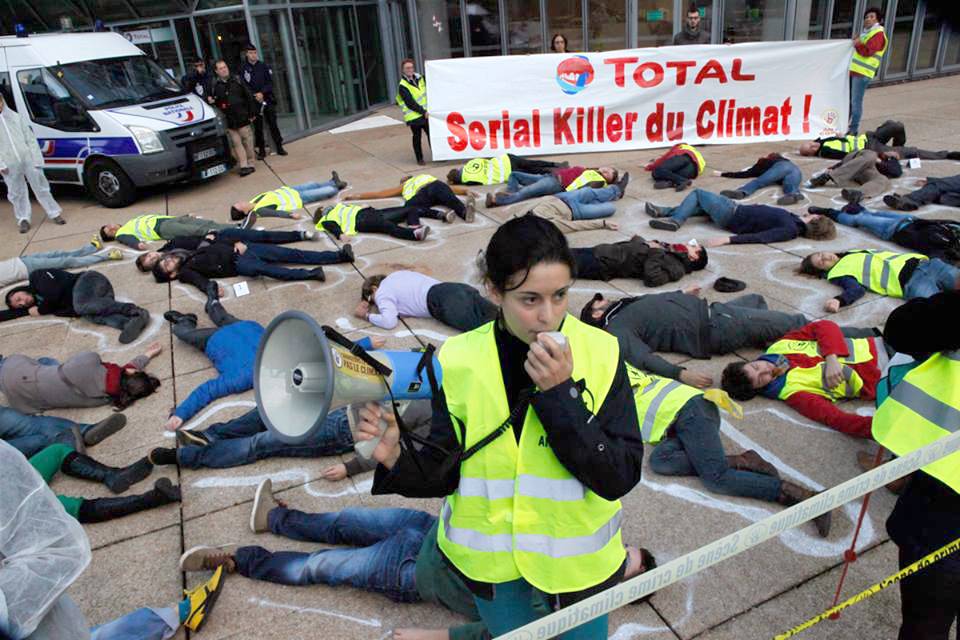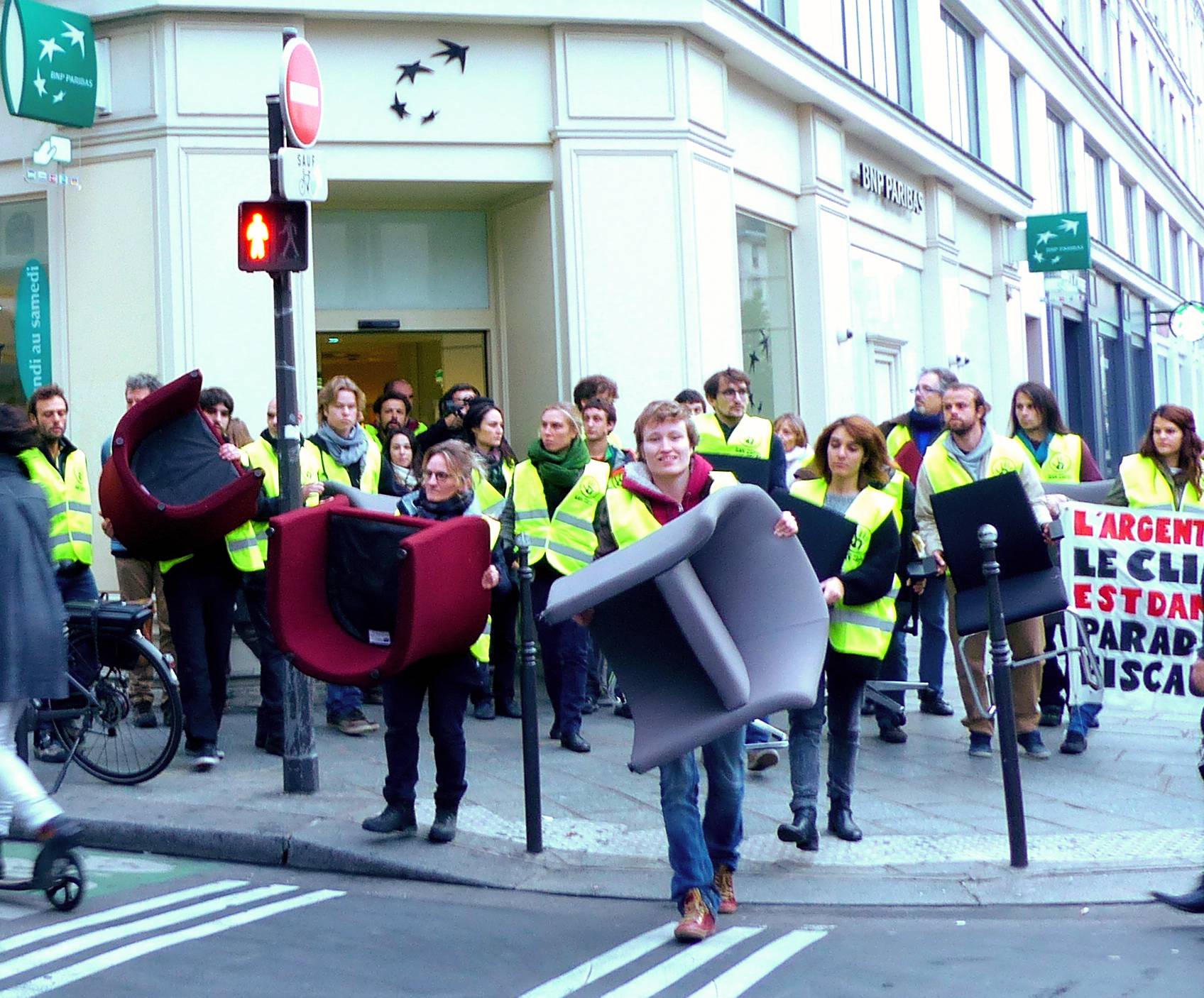 Determination and non-violent power balance
The success of the human chain on November 29, and of various demonstrations in other French regions on the same day, followed by the great success of the Global Village of Alternatives, weakened the government determination to prohibite all public gathering for climate on December 12. On Thursday, December 3 Alternatiba, as part of a delegation of the Climate Coalition 21, announced to the Minister of the Interior himself that a several NGOs were calling to a mass gathering on December 12 at the Champ de Mars. In spite of the fact that the ban on public gathering had been lifted, the government reaffirmed its refusal to authorize public pro-climate gathering in open air on December 12. In spite of the risk of mass arrests, about 150 Alternatiba activists therefore unanimously decided to maintain the Champs de Mars gathering on December 12 against the government will during the general meeting held on December 8.
Several Climate Coalition 21 members, including Alternatiba, Friends of the Earth, ANV-COP21 or UNEF then issued on December 8 a call for a massive citizen gathering on December 12 to declare the state of climate emergency. Supported by a massive leafleting campaign, targeting in particular Le Bourget, the call gathered 23 000 signatures of public figures and citizens within a few days.
The government initially maintained the ban on public rally but, facing the activists determination to maintain the Champs de Mars gathering, and the prospect of ending COP21 with mass arrests of activists, it finally gave up on Friday, December 11 and authorised all Climate Coalition 21 public gatherings for climate on December 12.
About 700 volunteers were mobilized within two days to help setting up the Champ de Mars gathering, including more than 500 Alternatiba and ANV-COP21 activists. The volunteers perfectly framed and secured the event, which took place without any incident. 20,000 people gathered between the Eiffel Tower and the Wall of Peace at le Champ de Mars, to declare the state of climate emergency and denounce the content of the Agreement being finalized at Le Bourget. The fight for climate justice was presented during the gathering as a prerequisite to building global enduring peace and sustainable societies.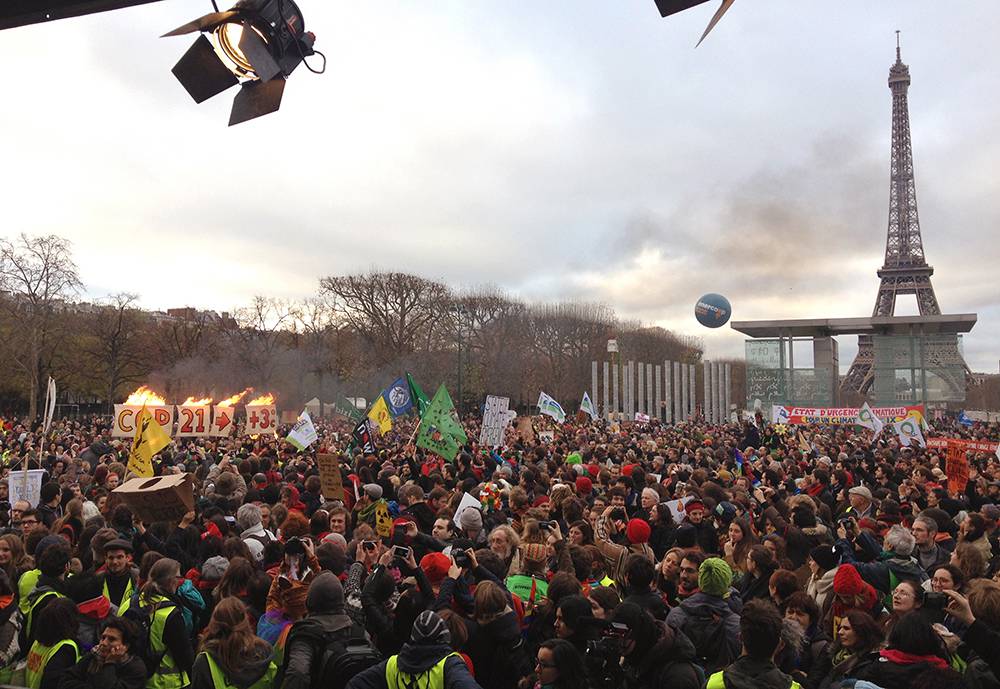 + 3 ° C, a crime against humanity
Alternatiba gives a very critical reading of the Agreement adopted at Le Bourget. Despite nice talks and the recognition of a maximum temperature rise objective of 1.5°C – in total contradiction with the country greenhouse gas reduction pledges -, the COP21 Agreement leads the world toward a global temperature rise of more than 3 ° C. Such a global temperature rise would irreversibly drive the Earth into climate chaos.
Alternatiba states that COP21 has betrayed its essential mandate, which was to keep the global temperature rise below the (yet too high) 2°C threshold. The absence of mechanisms forcing the countries to revise their greenhouse gas reduction targets until 2023 is also unacceptable. Despite misleading appearances and enthusiastic reactions, Alternatiba considers that the COP21 agreement is a total failure, and that the world state representatives implicitly approved a forthcoming global crime against humanity by signing the COP21 agreement in Paris.
To avoid this, local communities have to strengthen and spread their alternative, climate-friendly lifestyles and transition initiatives, as well as to exert pressure on companies and governments to build a non-violent power balance and win decisive climate battles in the next few years.
Alternatiba hence chose a new motto inspired another title by HK et les Saltimbanks:
« C'est pas fini, pas fini, ça ne fait que commencer ! »
"It's not over, not over, this is just a beginning!"
An exceptional Alternatiba coordination meeting will be held on 20 and 21 February in Bordeaux to establish a new action plan for the movement.